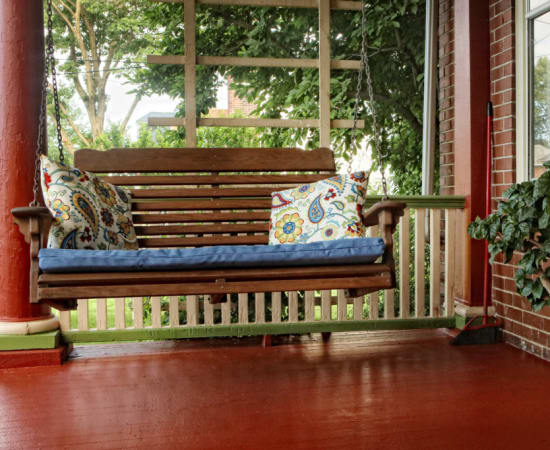 Welcome to the Australian Walkabout Inn Bed and Breakfast
The Australian Walkabout Inn Bed and Breakfast is a peaceful, romantic getaway located in the heart of Amish Country in Lancaster County. Whether it is a special celebration weekend, a visit to Sight & Sound, or a shopping trip to the local outlets, you will experience a unique blend of Pennsylvania Dutch hospitality, satisfying breakfasts and luxurious accommodations at The Walkabout.
The house was built in 1925 by Abraham Herr, a cabinet maker by trade. All of the interior woodwork is American chestnut and both the parlor and dining room have beautiful eight foot tall pocket doors hand-crafted of this rare American hardwood.
Hardwood floors, oriental rugs and antique furnishings invite you to experience the blessings of history. Jacuzzi soaking baths, hot tubs, luxury linens and massage therapists beckon you to take pleasure in the pampering of modern amenities. All suites have a private bath with shower, cable TV with DVD players, fireplace, air conditioning and refrigerators. A collection of books and movies is available for your enjoyment and relaxation. Complimentary hot and cold beverages are also provided.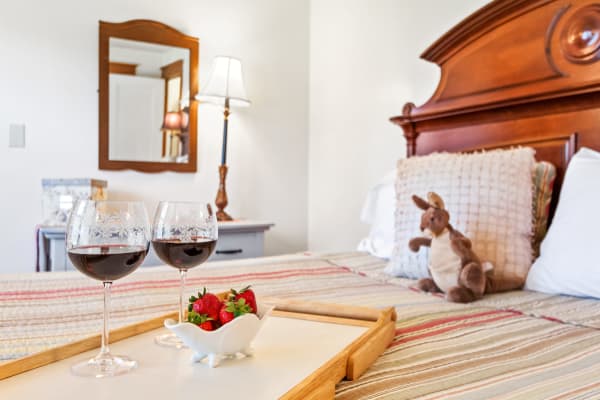 Something Extra?
Just Ask Us!
Celebrating a special occasion? Is there a 'little something extra' you'd like to add to your experience? Just ask us. We're happy to help. Whether it's reservations to a restaurant, flowers, or a bowl of chocolates, we're here to assist in making your getaway extra special
Fun Australian Facts
In Australia, there are more kangaroos than people.
Check out today's weather in Australia below!
Twitter Feed
About Your Stay
At The Walkabout every guest is a special part of the family. Complimentary beverages and snacks as well as sweet aroma of the kitchen invite you to experience Elegant Charm in the Heart of Amish Country. A full gourmet breakfast is served each morning in our dining room and features the fresh produce, meats and dairy products from local growers and farmers.
Our logo is an Aborigine symbol which means "a journey with a resting place". We hope that you will find the Australian Walkabout Inn Bed and Breakfast a comfortable, relaxing place for you to unwind and take refuge from your journeys of life.
The Australian word Walkabout means: to go about and discover new places.
You too can easily embark on your own Walkabout of the town's nearby attractions from our conveniently located Inn. Or you might simply choose to enjoy touring the Amish countryside for which Lancaster County is known.
About Your Stay
Australian Walkabout Inn
Bed and Breakfast